Studio Gear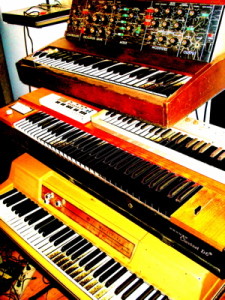 Benny's Wash n' Dry Studio
washdrystudio(at)gmail.com    washdrystudio.com
DAW software:
DAW software: ProTools 12.5.2
Notation Software: Sibeluis 8.5.0
Control Surface: Mackie MCU Pro
Plugins: Sonarworks Reference 3, FabFilter Pro q2 & Pro MB, Hofa IQ-EQ, Waves Platinum v9, CLA classic compressors, API eqs, In-Phase; Slate Digital Virtual Rack, VCC, VBC, VTM, FGX; Everything bundle; SoundToys native V5; Celemony Melodyne 4;  Metric Halo Channelstrip; iZotope Alloy 2, Neutron, Nectar 2, Ozone 7, RX3, RX 5; Sony Oxford EQ, Dynamics, Inflator; Bomb Factory LA3, 1176; Moogerfooger Analog Delay, Ring-Mod; Digidesign Smack; IK Multimedia T-Racks Custom Shop, Amplitube; SPL Transient Designer; Exponential Phoenixverb, Acon Verberate; Valhalla Vintage Verb and Room Verb; Blue Cat Patchwork & Dynamics, Dynamic Spectrum Mapper, SKNote Disto, Slate Trigger 2; URS Channel Strip Pro, plus all standard Avid and AIR plugins and more…
Studio Computers: Mac Pro (Mid 2013, 6,1) 6-core 3.5 Ghz, 16GB RAM, SSD, OSX 10.10.5 with 24" DELL Monitor; MacBook Pro (June 2012: 10,1) 2.6Ghz, 4 core i7, 15" Retina display, 16gig RAM, Mac OSX 10.10.5
Converters: AD/DA: Lynx Aurora 16 (currently cabled for 16 analog ins and 8 analog outs), (44.1, 48, 88.2 & 96K sample rates supported), and Lucid AD9624 (2 channels, AD only), (44.1, 48, 88.2 & 96K sample rates supported), DA: Benchmark DAC-1, (44.1, 48, 88.2, 96, 176.4 & 192 Khz sample rates supported), connected via Lynx LT TB and AES to MacBook Pro via Thunderbolt.  Lynx is the master clock; all digitally synced via word clock.  [Total simultaneous inputs=18, Total simultaneous outputs=18]
Monitors: JBL LSR6328P (stereo, no sub) (fed by the Benchmark DAC-1), and some awesome, terrible-sounding portable computer speakers, similar to a boombox- great for reference

Headphone Mixers: Furman HDS-6 system: (5) independent mixer stations, each with 2 headphone jacks and 4 mono and 1 stereo source, each with independent levels.  All mic/line outputs are split directly from mic pres (pre-computer/DAW) to independent mixer for grouping and routing to headphone amps. Headphones = Audio Technica (ATH M-50 and M40), Direct Sound, Sony & AKG.

Preamps: Pendulum MDP1 (2 channel tube)
API 3124m+ (4 channel)
John Hardy M-1 (4 channel)
Phoenix Audio DRS-Q4 mk2 (2 channel with 4-band inductor eq)
Focusrite ISA428 (4 channel)
Presonus Digimax FS (8 channel)
Mackie Onyx 1640 (16 channel)-used primarily for headphone bus only
Mics: ADK Z-Mod 67 (tube condenser styled after Neumann U67)
Lawson L47 MKII (tube condenser, styled after a Neumann U47)
Schoeps CMC64 (cardiod) (matched pair)
Gefell M930 (matched pair)
3Zigma CHI 251
AKG 414 BULS (2), D112
Samar VL 37 Ribbon Microphone (2)
Audio Technica 4051 (cardioid) (2)
Shure SM57 (2), SM 58 (2), SM7, SM59
Audix D6, VX10
Beyerdynamic M201, TGx180s
Sennheiser 421 mk2, e609
Avenson Audio STO2 (2) (omni)
Cascade Fathead II (2) (ribbon mic)
EV RE20, N/D 767a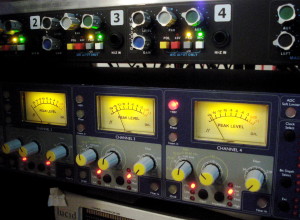 Studio: The primary recording space is one long room (approx 18' x 35' x 7') with no separate control room.  2 windows and 1 French door provide natural light. There is a 6 x 8' completely floated isolation booth with a large window.  There are 5 gobos (3 with windows, 2 without, 4 are two pieces, top and bottom) which I can move to adjust the rooms acoustics and isolation possibilities.  There is a bathroom and a front hall area that allow for some additional isolation locations.  Thinly-carpeted wood floors throughout.  Acoustic panels, iso-booth and acoustic design by Joe Salvatto.  The studio is heated and air conditioned.
Piano: 1933 Steinway B (6'10") with original soundboard, but restrung and with a rebuilt action (1996/2007)-
the action is a bit heavy, but very even and meticulously regulated.  It sounds warm, present, full and thick- great for jazz, rock, pop etc.  Regulated and voiced by Michael Miccio, January 2017
Keyboards: Hammond CV Organ (moded with percussion and reverb to be as a C2) with Leslie 21H (3 speed
mod: Chorale, Tremolo, Brake), Rhodes Stage 73, 2 different Wurlitzer 200As,  Hohner D6 Clavinet, Moog Minimoog Model D, Moog Prodigy, Oberheim Matrix 1000 (2), Nord Stage 2 76HA (Rev B), Roland Fantom FA-76, XP 30, and JV 1080, Nord Lead 2, Casio Privia PX3 (88 key weighted)
Soft synths: Native Instruments Komplete 10, Vienna Instruments Special Edition (Orchestral Library), Reason 7, Arturia V-Collection (Mini V, Modular V, ARP 2600 V, CS-80 V, Prophet V, Jupiter-8 V, Oberheim SEM V plus Spark drums); IK Multimedia Sampletank 2 & 3 all in bundle (incl: Miroslav Philharmonik)
Amps: Guitar: Fender Vibrolux (silverface, tube) and Deluxe (silverface, tube), Marshall Class 5 (Class A, 5 watt amp w/ 8" celestion,  Bass: Ampeg B15 (early 70s, second version), Powered Speakers: FBT Maxx 4a (2), FBT EvoMaxx 2a, Yamaha DXR 10, DBR 10
Instruments: Fender Jazz Bass (2000s, Mexican, flat-wounds), Martin acoustic guitar (1990s?)
Drums: 20″ 60's Gretsch round badge Kick (w/ Yamaha hardware for 1 rack tom)

12″ rack- 60's Gretsch round badge
15″ floor Gretsch, but early 70's (actually a field drum with floor tom legs, but it's really well matched to the rest of the kit.)
20″ 60's Rogers Kick
Pearl Billy Hart wood snare
Ludwig Supraphonic metal snare
(2) kick-drum pedals: Pearl, DW
(3) cymbal stands- 2 straight, 1 boom
(2) high-hat stands: Slingerland, ??
(2) snare stands: Pacifica, Ludwig (extra tall- good for rack tom)
Cymbals: Zildian K Constantinople 20" ride w/ rivet, Zildian K Custom Dry Light 20" ride, Zildian K Dark Medium Thin 17" crash, Zildian 14" hi-hats similar to New Beats, Sabian HH Classic 20" ride
Misc: Ample mic stands for all mics including tall and short boom, (4) metal music stands, adjustable height (Manhasset or similar), plus (2) wire stands; (4) metal/padded folding chairs, 2 wood/padded chairs, dining table, small sofa
[Updated 3.17]