Studio Update 2017-18
2017 and early 2018 have continued to find me busy recording and producing great music at my studio Benny's Wash n' Dry.  Recent studio and recording project highlights have included:
I added 2 exceptional condenser microphones to my mic locker made by ADK: Z-Mod 67 and Z-Mod 251.  Special thanks to ADK founder Larry Villela for his help in finding the best choices for my studio.
Recording and mixing my original music with my Trio Brasiliero featuring Gregory Ryan and Alex Katz with a special guest appearance by the New York Horns (listen to that track here).
Work on a new original collaboration with Joe Clausell and Anthony Pinciotti that fuses my original instrumental funk and jazz with Joe and Anthony's rhythmic and textural skills.  Sam Thomas guested on Oud on one track, so far!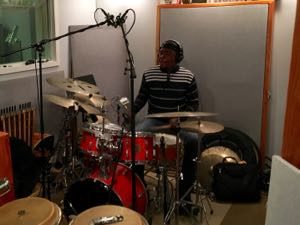 Tracked new release by phenomenal young Haitian drummer Johnbern Thomas and his band; mixed by Ben Rubin
Work on a new full-length project by Canadian singer Melanie Gall that runs the gamut stylistically from jazz to rock to Americana & string band.  Working title: Songs I Like
Recorded vocals for Kat Gang's new CD which was recently mixed and master by Dave Darlington
Mixed baritone Bremner Duthie's latest release "Bremner Duthie Sings Kurt Weill vol 2"
Recording several library music projects with producer/drummer Ethan  Eubanks
Recorded James Shipp and Nadje Nordhuis duo and James Shipp solo projects
I've performed and co-written many tracks with legendary house DJ and producer Joe Clausell
I recorded and played keyboards for Jonathan Coulton's latest recording Solid State, and his super-secret next release, with produced by the amazing Christian Cassan.
Singer/songwriter Michael Harren tracking string quartet, piano & voice for his suite about animal rights
Producer Brinsley Evans, Lisa Molina and I have co-written a song that we hope to place in a major motion picture… standby for more details
Co-writing with Hannah Gill and Brad Hammonds for Hannah's upcoming album
Produced and arranged several songs for jazz Singer Dennis Day which we recorded at Sear Sound, in Manhattan, recorded and mixed by Chris Allen.
Keyboard tracks for artists including: Storm, Jim Satten, CeCe Gianotti, Rench, Sean Mc Morris, Horace Scott, Annette Genovese, Pete Miser,
Engineered projects for: Victor Lin & Ben Flocks, Nikki Denner, Carol Lipnik & John Kelly, Drew Paralic, Glenn Spivack, Paul Spencer, Jacob Joilff (Pat Ferguson), Myriam Phiro, Sheryl Bailey