Wash & Dry Studio: Winter 2021-2 Update
Wash & Dry Studios has been managing to find ways to help our clients and friends to make some great music, in spite of the health and safety issues of these past months (and years!). Don't hesitate to reach out if you'd like to book some time to work on your project with us! Here's a roundup of recent musical highlights at the studio.

Guitarist Alex Levine, pianist Russell Kranes, bassist Sam Weber and guest drummer Jay Sawyer spent 2 days in February tracking their new jazz project. Their music, featuring original songs and some creative arrangements of standards and pop songs, builds on the classic jazz piano/bass/guitar trio format. They added guest drummer Jay Sawyer on a few tracks for some rhythmic support and variety.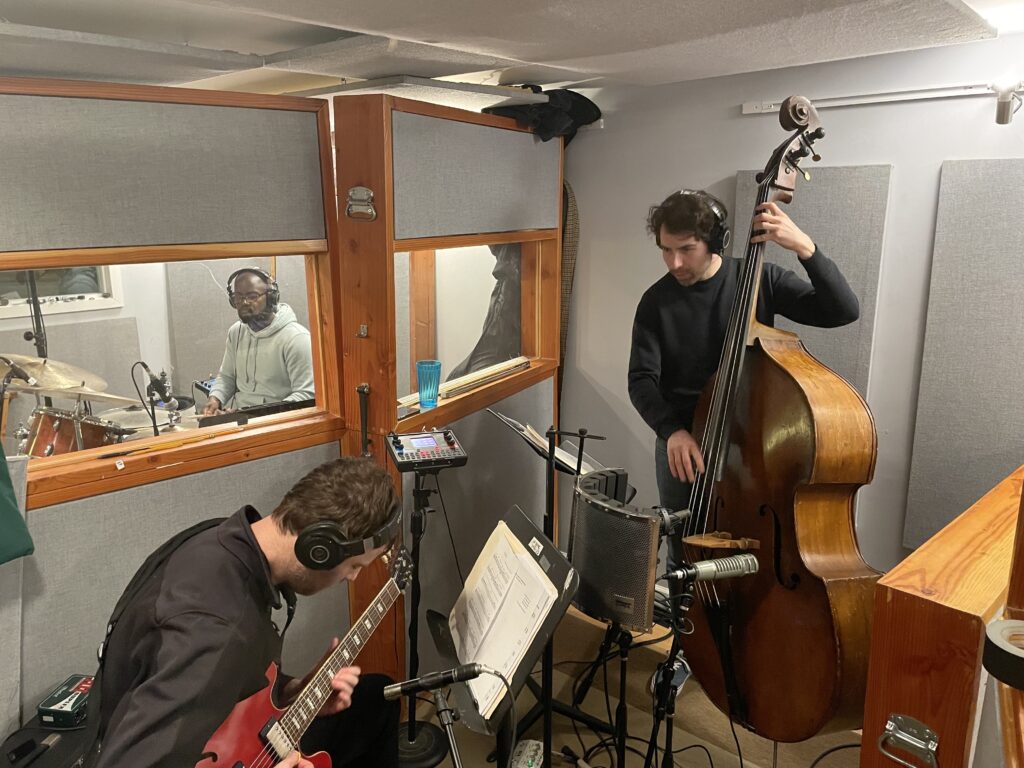 French pianist Jaques Letalon and his wife, singer Marie started recording a trio project with bass, produced by my neighbor, guitarist/composer/producer Francis Jacob. They've been performing their blend of French songs and standards for years and chose Wash & Dr as an intimate place to track.
At Wash & Dry Studio, our focus is on the experience of the musicians while they perform- the more natural, connected and comfortable everyone feels, the better the results. Although we have a flexible and powerful new Digital Audio Labs headphone monitoring system here, these artists mostly wanted to track with everyone in the same physical space and without headphones. (Once we added drums, headphones were needed for Alex, Sam, Russell and Jay). From an engineering perspective, I enjoyed the challenge of using creative instrument & microphone placement plus some baffling to manage the "bleed" between instruments. The resulting tracks have plenty of flexibility for mixing, but allowed the musicians to communicate and enjoy the process of recording.
Singer/songwriter Emily Cavanaugh and I co-produced the track "Seeing Me Home (A Song for Idaho)" with contributions from Leo Sidran, Wells Hanley and mastering by Oscar Zambrano. Emily has a charitable project called A Song for You that crafts custom songs for people facing end-of-life situations- this song was part of that work. This heart-wrenching song was written for St Lukes Health System in Idaho who distributed the song to their network of over 15,000 nurses, many of whom performed in the song's video. Check out the touching video here.
Legendary DJ and producer Joe Clausell (Spiritual Life Music) and I continue our 25+ year collaboration creating funky, world-music influenced psychedelic house music tracks. Fran Cathcart (Skylight Studios) is our long-time mix engineer and collaborator.

Singer Tyley Ross (East Village Opera Company, NYU), guitarist Ben Butler and I continue work on our moody, atmospheric Canadian pop song project with our rendition of The Tragically Hip's Bobcaygeon. (More info in a separate news item above.

I recorded piano for the singer/songwriter Linda Draper's new release Patience & Lipstick, produced by bassist/producer Jeff Eyrich.
Singer/actor and music historian Melanie Gall continued work on songs for a new show she's performing in the UK and beyond entitled "A Toast to Prohibition," and we also started pre-production for a new album covers tentatively titled "Melanie's Mixtape."

Jazz and R&B Singer Dennis Day and I continue to expand our remote collaboration reworking recordings from his archives. I remastered and restored a live recording of his from a 1980's Washington D.C. Club performance, and we started a new project titled "Back in the Day" with is a creative re-imagining and remixing of a recording he made int he 1980s. The first full track "No One Night Stand" features

Other clients included Barcelona-based songwriter CeCe Gianotti, for whom I recorded some keyboard tracks, jazz pianist Nick Olynciw, who recorded a trio project, British trombonist/vocalist Malcolm Earle Smith and vocalist Lucie Foley, who each worked on duo projects with 90 year old NYC legendary pianist Ephie Resnick, mixing for the children's band Here Comes Trouble (Kelly Donahue & Jon Babu), recoding with singer/songwriter John Thomas and music education program "Music & the Brain" for whom I continue to proceed educational support materials.