Organic!
Sweets
(John Cabán and Bennett Paster: 2006, Self-Released)
The Squirrel Next Door (Paster)
Larry the G (Paster, Cabán, Lion)
Sweets (Paster, Cabán, Lion)
Dirt (Paster, Cabán, Lion)
East Orient Line (Cabán)
Flubby (Paster, Cabán, Lion)
Clavenstein (Paster, Cabán, Lion)
Blues for Ray (Cabán)
Saline Sky (Cabán)
BUY Sweets (CD and digital downloads) at CDBaby
If you're a fan of improvisational, psychedelic tastiness, check out Sweets.  Brooklyn's Bennett Paster creates mellow organ work, and also shades his tracks with clavinet, Wurlitzer, piano and Nord Lead 2 using a dissonant touch that would make John Medeski proud… Plenty comfortable with disparate harmonic colors and expressive keyboard textures, Bennett always seems to know just when to change things up, organically (heh) shifting the groove from chill to intense, introspective to full-on-rock.

Michael Gallant, Keyboard Magazine, February 2007
John Cabán – Guitars, Loops, Atmosphere
Bennett Paster – Organ, Clavinet, Wurli, Nord Lead 2, Piano
Yuval Lion – Drums, percussion
Produced, Recorded and mixed by Bennett Paster and John Cabán, Nov 2005- April 2006 at Benny's Wash and Dry, Brooklyn, NY
Mastered by Ian Kennedy at New Alliance East, Boston, MA
---
The Undoing
(John Cabán and Bennett Paster: 2003, Self-Released)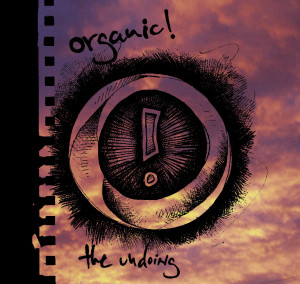 Shakin' the Hen House
The Getaway
End of the Road
The Bold & the Beautiful
Sofrito
Squakzilla
Tall Cool Glass of Betty (Cabán)
Skankness Monster
Surf Rock (Cabán)
The Undoing
All songs by Organic! except as noted otherwise
BUY The Undoing (CD and digital downloads) at CDBaby
Keyboard Magazine Unsigned Artist of the Month: Organic! (May, 2005)

Groovy, improvised funk and R&B instrumentals are the brainstuff of this New York city trio. While the key centers are largely static, gonzo musicianship, telepathic group interplay, and some mindbending effects combine for a thoroughly engaging listen.
John Cabán – Guitars, Loops, Slide.
Bennett Paster – Organ, Electric & Acoustic Piano,
Minimoog, Synth Bass.
With Guests:
Tony Mason- Drums # 2, 4, 6, 9
Courtney Williams- Drums # 1, 5, 7, 8
Anders Hentze- Drums, Percussion # 3
Chris Cheek- Tenor Sax, Textures # 1, 6
Gilad- Percussion # 5
Andy Hess- Bass #9
Produced, edited and mixed by Organic!
Engineered and recorded by Bennett Paster At Benny's Wash 'n' Dry between 1/02 and 3/03
Mastered by Emily Lazar at The Lodge, NYC
---
BROOKLYN ABOVE GROUND BAG1
This Organic! single was originally released on the CD Brooklyn Above Ground BAG1, a benefit for World Hunger Year.
Buy BAG1 as digital download at Amazon.com
John Cabán (guitar), Bennett Paster (organ), Tony Mason (drums)
Produced, recorded and mixed by Bennett Paster at Benny's Wash n' Dry, Brooklyn, NY